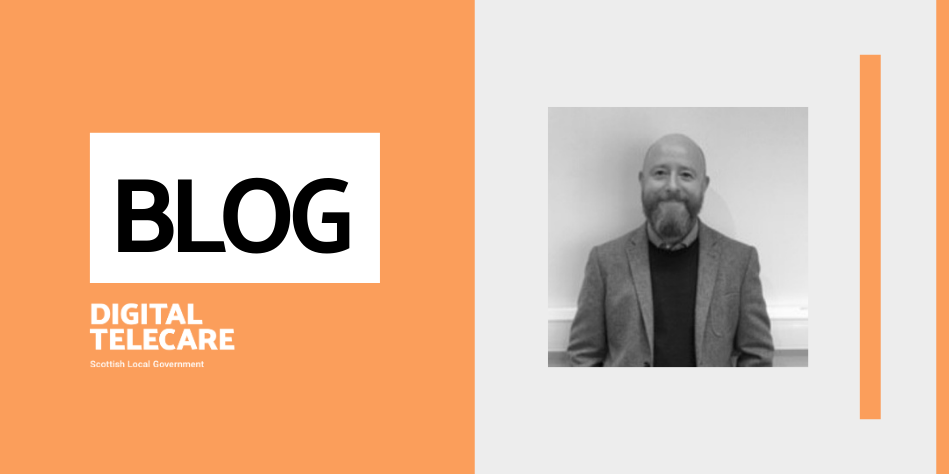 THE OPPORTUNITIES DIGITAL TRANSFORMATION WILL PROVIDE TELECARE SERVICE PROVIDERS AND THE CHALLENGES OF THE TELEPHONY MIGRATION

DAVID BROWN, BUSINESS RELATIONSHIP MANAGER FOR DIGITAL TELECARE FOR SCOTTISH LOCAL GOVERNMENT
Telecare Services in Scotland are currently faced with their biggest opportunity, and their biggest challenge since they began providing critical services to vulnerable users more than 30 years ago. Within the next 3 years, the analogue telephony infrastructure in the UK will be decommissioned and replaced with a digital, ALL-IP solution. This means that citizens will no longer be able to connect with their Telecare Alarm Receiving Centres (ARCs) via the traditional method over an analogue line, but instead will rely on data packets being sent over the new digital network.
This transformation brings a number of operational and strategic challenges to a telecare sector in Scotland which is already over stretched and attempting to manage rapidly increasing demand and complexity, along with a range of socio-economic pressures. However, this digital transformation also brings a once in a generation opportunity to modernise, improve and shift the sector and the thinking from a reactive, to a proactive delivery model, enhancing outcomes for citizens, improving efficiencies, and redesigning services around the user.
---
The Opportunity
Digital transformation provides telecare service providers with a range of opportunities which helps them address the current challenges, whilst also creating opportunities that fully harness the capabilities of their upgraded telecare solution to improve efficiency, resilience, reduce cost and enhance the range of services that can be offered to citizens. Further information can be found in the Benefits of Digital Telecare document.
Integration and Prevention
Digital telecare has the potential for open data, shared platforms and predictive analytics which would enable greater service integration and power whole systems approaches. Seamless and instant sharing of citizen information between services would empower partnership working and support a shift towards a more proactive, preventative and person centred model.
Improved Citizen Experience
Digital telecare can support improved quality, reliability and provide enhanced services which are tailored to meet each citizen's specific needs. These improvements include; faster call connection speeds, better audio quality, increased resilience and reliability and the potential to link consumer technology such as wearables, mobile phones and other smart devices to the ARC.
More Reliable and Resilient Service Provision
Digital telecare systems are more reliable than their analogue equivalents and offer a real-time overview of device statuses and connectivity which increases citizen safety. Live monitoring of devices enables quicker fault detection, and these issues can be escalated to operational teams immediately via configuration of device management platforms (DMPs). This is a significant improvement on the current analogue network, which is known to fail regularly although both service providers and citizens may be unaware of this due to a lack of reliable data.
Consumer Technology
The integration of consumer devices and wearables would reduce equipment expenditure costs and increase scalability, whilst simultaneously allowing citizens to access their service using a device they are familiar with, and reduce the stigma of traditional telecare alarms.
---
The Challenge
Analogue telephony migration is happening in Scotland now, and early as 2023 it will no longer be possible for citizens to purchase an analogue phone service from many of the main telecoms providers. This means telecare service providers need to start planning their digital migration now to ensure they can continue to provide safe and reliable services. For further information on this, please read the Analogue Telecare in a Digital World document available on the Technical and Security Pathway of our digital telecare playbook.
Analogue Network Instability
With digital migration already underway in Scotland, some analogue telecare alarm services are reporting a rise in the number of failed analogue alarm call attempts. Traditional telecare devices are designed to send voice calls over the Public Switched Telephone Network (PSTN) network and when these analogue devices attempt to connect with the ARC via a digital network, this emergency call could potentially be corrupted and fail to connect correctly, or could become lost completely.
Analogue Equipment in a Digital World
The new digital telephony network will not support analogue equipment safely and securely. This means that if an existing telecare alarm is connected to a digital line it may not work reliably, and emergency calls may be delayed, or fail to connect. In addition, analogue telecare devices which are connected to a digital router will not work in the event of a power failure in the property, as digital phone lines do not provide a powered connection.
Alarm Receiving Centre Telephony
Continuing to use analogue telecare equipment also has an impact on ARC infrastructure. In the same way that users' home telephone lines are being upgraded to digital, the telephone lines that connect the ARC will also need to be upgraded. Currently these ARC phone lines will typically be Integrated Services Digital Network (ISDN) or analogue lines. These are also being upgraded to digital prior to 2025, and ARCs cannot remove their current telephone connections until all their users are migrated to a digital telecare solution.
The Shift Towards an ICT Service Model
Traditionally, telecare services in Scotland have remained largely detached from their ICT counterparts, and these sectors have had limited contact before now. Digital transformation means that telecare becomes fundamentally an ICT service, and this requires a shift in the workforce skills and operational procedures required to manage and deliver the new service. Digital telecare relies on a range of new areas and functions such as robust cyber security, internet connectivity and software patching and updates to ARCs and devices.
---
Conclusion
As the pressure being placed on telecare service providers in Scotland increases, there is an opportunity to take a more innovative approach to enable them to continue to meet the fiscal, demographic and technological challenges they are faced with. As part of the analogue to digital transition, there should be a greater priority placed on ensuring that both citizens, and the workforce who support them, have access to the digital and technological solutions that will benefit them. The current global pandemic has clearly shown the speed at which telecare service providers can mobilize change and adapt to continue to deliver vital and effective services during times of significant pressure. A key part of this response has been the rapid adoption, implementation and uptake of digital and technological solutions.
It is vital that telecare service providers in Scotland collaborate and demonstrate leadership to leverage the power that digital transformation offers to provide greater opportunities that improve efficiency, resilience, reduce cost and enhance the range of services that can be offered to Citizens.