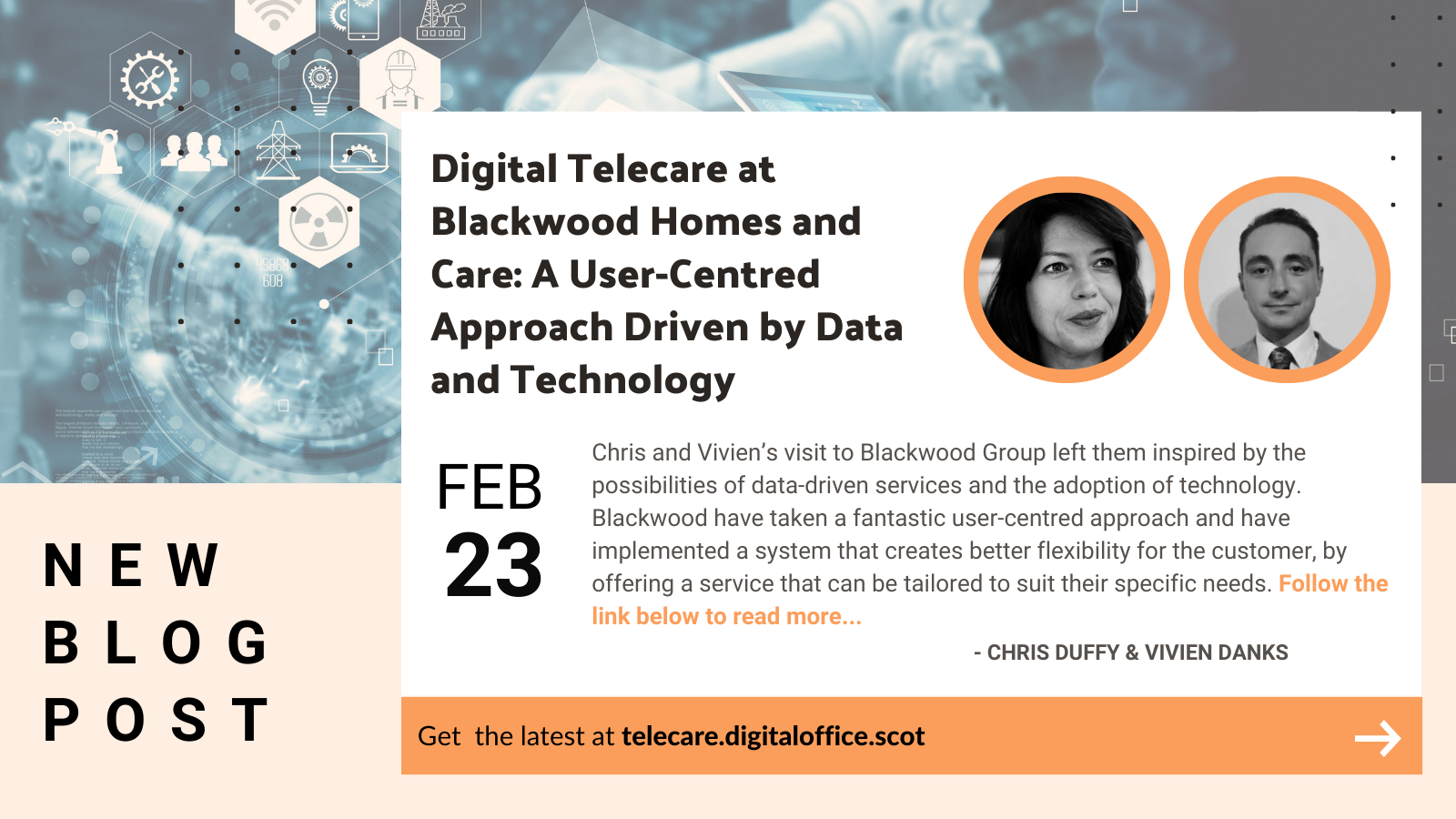 The Digital Telecare Team recently visited Blackwood Homes in their office on Dundee Street in Edinburgh. The visit was held between Chris Duffy and Vivien Danks, our Digital Telecare Project Managers within Digital Office for Scottish Local Government and Anne Jenkins, Head of Digital Services at Blackwood.
On arrival guests are greeted with a digital experience in the form of a digital check-in, which is much like a passport style automated check-in at airports. Guests are asked to type the reason for their visit, who they are visiting, their name and email address. The camera then takes a photo of the visitor, and a sticker is printed moments later with all the details that were logged, this can then be worn during the visit and the information is also sent over to the host. While you wait, your information is sent to whoever you have asked to see, and soon we were greeted by Anne Jenkins, Head of Digital Services. Anne has worked at Blackwood Homes and Care for more than 10 years and having worked with the innovation team has a wealth of experience in digital technology.
Blackwood Homes and Care was founded in 1972 by Dr Margaret Blackwood MBE, a campaigner for the rights and independence of disabled people. They provide housing, care, and support for disabled people of all ages.
Their investment in innovation has meant their care and housing services are further enhanced by their bespoke digital system, CleverCogs which enables customers to have choice and control over the how they interact with Blackwood and manage some of their services online.
CleverCogs is a digital system provided to customers using a touchscreen hub, or for housing customers, it can be downloaded onto their personal tablet or smartphone. Supported by the installation of Wi-Fi across all their housing developments and care homes, customers can access it for personal use, as well as to use CleverCogs. Using a menu-based approach (the cogs), dependant on which services they receive from Blackwood, their unique system offers users the flexibility to choose what services they want to see on their screen. Where Blackwood supplies an alarm service to a customer, a fixed broadband connection is installed in their home. By doing so, Blackwood can ensure that they have the ownership and responsibility of the internet connection to ensure constant delivery of the service. Every tenant is provided with internet access and a tablet that enables them to not only request help and assistance or a repair, but also allows them to shop, bank and browse the internet for anything they want. Blackwood offers several compatible peripherals, pendants, GPS trackers, flood detectors, amongst others. Each resident that is referred is taken through an assessment stage to individually choose a tailor-made service with the right equipment for each person.
In some developments a unique door entry video system uses video calling to allow the tenant to see who is there and manage access, much in the same was a Ring doorbell system works. Family or friends can be given codes to enter, which reduces the need for a traditional concierge type service and removes the need for key fobs to be handed out and potentially lost.
As part of Blackwood's Peoplehood project, they are trialling the development of the Lifestyle Alerts service which integrates CleverCogs with the energy supply in the home and triggers alarms based on behaviour patterns. For example, if the shower has been running for more than 30 minutes this might suggest a fall, or if the kettle hasn't been put on before 9am, the customer may need help. Should the tenant not have triggered one of these sensors by an agreed time, a call can be made to the tablet to check-in with the client. If the tenant has agreed, cameras can be installed to give Blackwood a visual on the tenant to ensure their safety.
Calls from Clevercogs are handled by Blackwood's own team of responders. Using their unique ways of watching a customer, check-in calls are not needed. The system allows the team to see if the tenant has used the portal to carry out tasks such as viewing their care notes or turning on lights. In addition, the team can check searches on targeted websites. For example, if a user is sourcing information on mental health, in this instance, the team could issue a targeted response to provide support back to the client. Using the video calling tools, the customer can see the team face-to-face, and properly triage the situation, leading to less instances of no response to emergency services being sent inappropriately. What is unique about Blackwood's use of the Clevercogs system is that their clients have the flexibility to choose a service that best suits their individual needs. All they must do is call the team and ask!
Blackwood have been working with the robotics department of Heriot Watt University and introduced us to 'Kylie' the robot, one of two robots they are currently trialling in their 24/7 responder service and care homes. One trial where a customer had a personal robot in their home resulted in a fall being detected. The responder team were able to drive the robot to the bathroom, video call with the customer and remain talking to them whilst a physical response arrived.
Future developments are underway to allow the robots to freely roam around buildings and complexes. Using QR codes that will grant the robots access to lifts and doors, this will enable one robot to respond to multiple customers. In their care homes, Blackwood is exploring the use of robots for carrying out tasks such as greeting visitors and taking them to the customer's room, taking orders for customer's lunches, as well as social activities such as leading exercise classes and playing games. If robots can carry out these tasks, this has the potential to free up staff resource to carry out more of the meaningful tasks with residents.
Chris and Vivien's visit to Blackwood Group left them inspired by the possibilities of data-driven services and the adoption of technology. Blackwood have taken a fantastic user-centred approach and have implemented a system that creates better flexibility for the customer, by offering a service that can be tailored to suit their specific needs. As a team, we look forward to continuing to engage with Blackwood Group in 2023 and hearing about future developments using robots and the Clevercogs system.