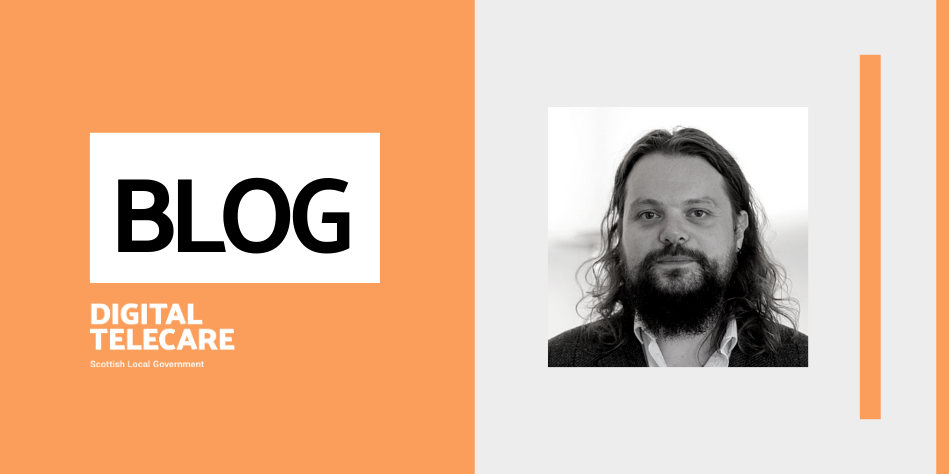 KNOWLEDGE EXCHANGE WITH OUR DIGITAL HEALTH EUROPE TWINNING PARTNERS
THOMAS OZERS, PROJECT MANAGER, DIGITAL TELECARE FOR SCOTTISH LOCAL GOVERNMENT
Building International partnerships and the value which can be gained from them is something I'm deeply familiar with. Prior to joining the Digital Office in October 2019, I worked in International Higher Education for more than a decade, building partnerships and undertaking projects with organisations from across the globe.
I still vividly remember the first international network meeting I participated in. How it shone a bright light on just how siloed in institutional dogma my thinking had become up until that point. The relief in realising that people in similar roles from across the world were facing the same challenges I was, the excitement of learning about new approaches to these challenges, and the shock that initiatives I saw as business as usual were viewed as innovative by others.
The strong emphasis on partnership working, and the understanding of the value it delivers, is one of many things which drew me to the Digital Office. It was exciting to learn that there were already international links being developed when colleagues from the Agder region of Norway joined a knowledge-exchange session in Glasgow in November 2019.
So when the opportunity arose to join a bid, coordinated by the Scottish Government's Digital Health and Care Directorate, to create a Digital Health Europe Twinning Project based around digital telecare with colleagues from the Agder Region of Southern Norway and the Andalusia region of Spain, I jumped at the chance.
Digital Health Europe
Digital Health Europe is funded through the HORIZON 2020 instrument and aims to provide comprehensive support to the Digital Health and Care Innovation initiative. The project's approach involves a number of actions that will boost innovation and advance the digital transformation of health and care, with a focus on three key priorities:
CP1: Citizens' secure access to and sharing of health data across borders;
CP2: Better data to advance research, disease prevention and personalised health and care;
CP3: Digital tools for citizen empowerment and person-centred care.
The objective of the Twinning programme is to support the transfer of innovative good practice essential to the deployment of digitally enabled solutions for health and care.
The Digital Telecare Twinning Project
The Twinning Project will link three partner regions, Scotland, Agder in Norway and Andalusia in Spain. The focus for our Twinning Project, naturally, is digital telecare, and focuses on CP3: creating digital tools for citizen empowerment and person-centred care.
By bringing together relevant experts from the three partners to share good practice, practical tools and implementation guidance, we are not only supporting the deployment of digital telecare in the three partner countries, but will also create a range of materials to support the adoption of digital telecare across Europe, with a particular focus on citizen-centric services. This will centre around two key products:
1. A 'Roadmap for Digital Telecare' for use and adaptation by the twinning partners, and other European regions. The Roadmap will utilise existing strategies, business models and resources developed by the twinning partners to formulate a comprehensive pathway to support the planning and implementation of digital telecare
2. A new 'Citizen Pathway' for the Digital Telecare Playbook which will explore the development and deployment of innovative, person-centred service models to support and guide the delivery of digital telecare
Agder is represented by colleagues from their Grimstad Kommune and University of Agder, while Andalusia are represented by colleagues from their Agency for Social Services and Dependency of Andalusia.
As well as representatives from the Scottish Governments Technology Enabled Care Programme and Digital Telecare for Scottish Local Government, the Scottish contingent also includes representatives from four Health and Social Care Partnerships; Angus, East Renfrewshire, Edinburgh and Falkirk. We felt it was really important to involve colleagues directly involved in the delivery of telecare services in Scotland. Not only do they bring a tremendous amount of knowledge and expertise with them which can be shared with Agder and Andalusia, they will also be perfectly placed to identify opportunities and possibilities from the approaches our partners have taken, identifying innovations which could be adopted here.
Our approach and outputs
We received the exciting news that our bid was successful and had been allocated €17,000 of funding in late July 2020. Originally the project had been planned around three study visits, one each to Norway, Spain and Scotland to facilitate knowledge sharing. While we had initially clung to the hope that the global pandemic would have eased enough to permit this to go ahead, sadly this was not the case and we instead found ourselves turning to digital solutions.
We are currently midway through a series of four knowledge exchange workshops. The first was very much a 'getting to know you' session, with each of the partner regions presenting on their current status with regards to digital telecare, their strategic goals, any challenges they had faced or were facing, and examples of best practice. It was an absolutely fascinating morning and a range of common interests were identified including bring your own device, cyber security and GDPR, operational procedures and the changes needed to adapt to digital telecare and the intersection of telecare and telehealth.
The second session was led by the Scottish contingent and focused on two key themes; 'Telecare Service Redesign and Transition Management' and 'Digital Telecare Security, Data and Technical standards'. We presented on the roadmap which had informed the structure of the Digital Telecare Playbook, and the Scottish approach to cyber security. Colleagues from Andalucía shared information about their approach to outbound calling and colleagues from Agder shared information about their roadmap for the digital telecare transition and their charging model.
Learning so far
By far the most exciting thing about the Twinning Project is the opportunity to learn from Agder and Andalusia, and this has definitely been born out by the knowledge exchange workshops so far.
Agder are much further along their digital telecare journey than Scotland. Their planning for the transition started back in 2013, and are now delivering digital telecare at scale and exploring trying to develop a comprehensive service model that encompasses both telecare and telemedicine/telehealth applications. There is thus a huge amount we'll be able to learn from Agder about both the transition process itself, and the changes they had to make to their operational processes to account for the new digital technology. For instance, Agder provided a fascinating presentation on the impact the transition to digital telecare had for their charging models.
In contrast, Andalusia are still in a very early stage of the digital telecare journey, but they have a far more pro-active approach to telecare service delivery than anything seen in Scotland at present. Not only does the Andalusian Telecare Service currently support roughly 230,000 service users from just 2 alarm receiving centres (ARC) (This contrasts with telecare service providers in Scotland supporting 175,000 service users from 26 ARCs) but they have also integrated outbound calling into their service offerings. This combines regular check-in calls to see how service users are getting on with targeted health campaigns, for instance providing guidance on how to stay safe during a heat wave. Moving towards a more pro-active approach is a goal for many telecare services in Scotland, and the opportunity to learn from Andalusia will be invaluable.
What I have presented here is just an overview of some of the key takeaway points from the first two workshops, and with another two still to go there is little doubt that this project will deliver real value for the three partners, while also forging lasting connections.
Next Steps
The final two sessions in December and January will be led by Andalusia and Agder respectively. The overall learning from all four sessions will then be consolidated and will ultimately form the planned 'Road Map to Digital Telecare'. This resource is planned to support any country or region with their transition to digital telecare, and if the sessions so far are anything to go by it will be invaluable.
Additional workshops in January and February 2021 will specifically focus on the Citizen Pathway. Citizen-centric services is a hot topic at the moment, as evidenced by its prominence in Digital Health Europe's priorities. Drawing together experts from the three partners to create this resource promises to be a fascinating process and I'm looking forward to linking in colleagues from the Digital Office who are more familiar with the Scottish Approach to Service Design to share the Scottish perspective.