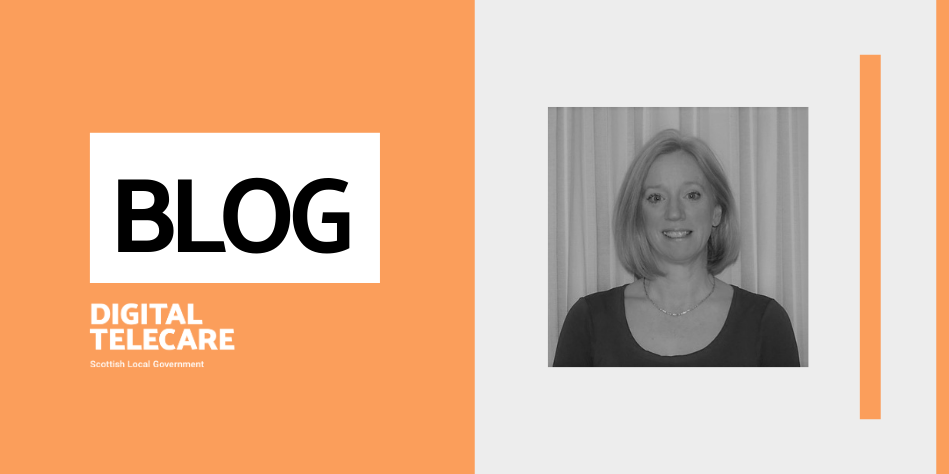 PROACTIVE WELLBEING CALLS - A STEP TOWARDS AN EXCITING FUTURE
ANN MURRAY, TELECARE LEAD, TECHNOLOGY ENABLED CARE PROGRAMME
If you've read the blogs in this series, your head will be filled with the possibilities of digital telecare – open data, shared platforms and predictive analytics, which enable greater service integration and power preventative approaches, and bottom line, improve care, support and people's wellbeing.
As potentially transformational digitally-enabled telecare will be, there's still much to do to make it a reality. My colleague, David Brown's blog last month outlined the essential work required to first make our telecare services digital. So, excited as I am about the possibilities the switch to digital will bring, it is the TEC-funded 'proactive outbound calling' projects, shortly getting underway, that present a more immediate opportunity to reimagine telecare.
In response to the COVID outbreak, around half the telecare services in Scotland rapidly introduced wellbeing calls to support their most vulnerable service-users. This represents a significant change in the way telecare services operate. Although outbound calling found that many people were managing fine with support from family, friends and their community, it also found a significant minority were not. As a result of a telephone call or calls, crises were avoided and isolated people became connected.
Building on the learning from this experience, TEC will work with a range of partners to explore how outbound calling can enhance the telecare service offer in a meaningful and sustainable way. Through good conversations and closer working with other services and local communities, the aim is to anticipate and prevent crises and enable wellbeing, and in doing so, reduce some of the pressure on our health and social care services.
In the absence of the real time, integrated digital data needed for the predictive approach of the future, this project will take a modest, yet significant step towards proactive telecare. We will test the hypothesis that better use of existing intelligence, together with good conversations and regular checking-in calls, will enable early identification of significant changes in a person's circumstances. This could provide an opportunity for a person to take steps, with support as required, to build their resilience and/or avert a looming crisis.
Having worked in falls prevention for many years before joining the TEC Programme, I'm acutely aware that identifying risk, whether it be risk of falling, frailty, loneliness or ill health, is only a first step in the sometimes challenging process of doing something about it. Although outbound calling by telecare services has the potential to become an early warning system, services will need to work closely with others to provide the information, advice or assistance a person might want and need to keep safe, well and independent.
The proactive outbound calling projects will enable us to learn who might benefit most from wellbeing calls, how to have good conversations with people, identify the 'triggers' for a decline in health, wellbeing and resilience, and how to support a person to take action if they want to. It will teach us more about the practicalities, pitfalls, outcomes and costs of this new way of working.
Many of you will be aware that proactive telecare is not a new concept - our telecare colleagues in Spain have been taking this approach for years, with outbound calls now outnumbering their inbound calls by far. Closer to home, to learn from others, we are linking with colleagues from the Connect project in West Wales, who are leading the way in proactive telecare in the UK. In addition, TEC will be establishing a Proactive Telecare Learning Collaborative to share and maximise the learning over the next few months. Colleagues from the Care Inspectorate will also be partners, to understand the implications for registration, if any, of a more proactive service.
Telecare services are on a journey to the proactive, digitally-enabled care and support of the future, and I believe this is a significant and person-centred step in the right direction.