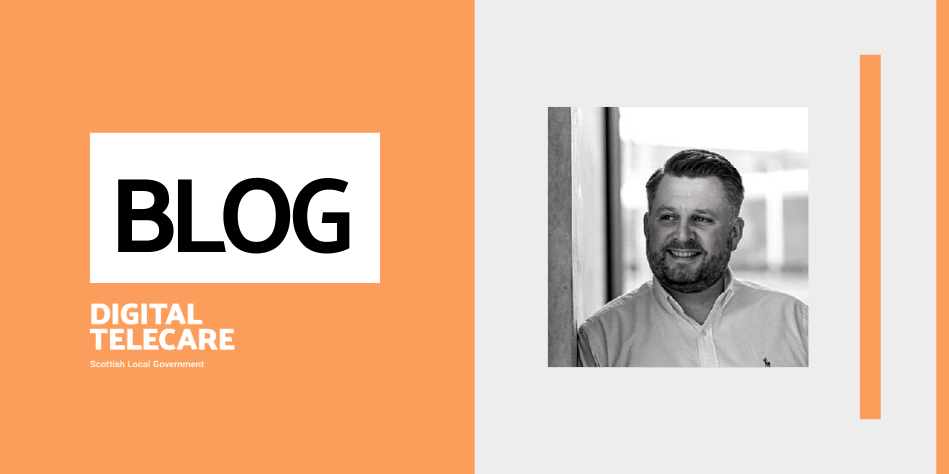 THE LAUNCH OF THE NATIONAL BRIEFING DOCUMENT
MARTYN WALLACE, SENIOR RESPONSIBLE OFFICER, DIGITAL TELECARE FOR SCOTTISH LOCAL GOVERNMENT
As we move closer to the accelerated 2023 analogue telephone service switch off deadline, it cannot be guaranteed that analogue telecare equipment will operate safely and reliably over digital telephone lines. This creates a massive challenge as well as opportunity for all concerned.
As part of our continual support and partnership with Local Authorities, Health and Social Care Partnerships and the wider TEC sector across Scotland to develop a once for Scotland solution during this transition, Digital Telecare for Scottish Local Government in conjunction with Technology Enabled Care are launching a National Briefing Document. This document will be used to raise awareness of the urgency and importance of the switch from analogue to digital telecare to senior leaders within the public sector and will be published on the Digital Telecare Playbook at the beginning of December. It has been written in collaboration with Scottish partners for partners and will provide an overview on the following:
An overview of digital telecare
With digital migration already underway across the country, some services in Scotland are reporting a rise in the number of failed alarm call attempts, along with increasing numbers of cases where citizens have been migrated over to a digital service in their property. This has left analogue telecare equipment operating either unreliably, or not operating at all. Inaction on switching to digital telecare could lead to dangerous failures of essential services and will put the support given to vulnerable individuals at risk. For this reason, it is vital that Scotland's Health and Social Care Partnerships, Housing Associations and many other organisations who use analogue connectivity to deliver their services upgrade to digital telecare.
Digital telecare roadmap
The process of upgrading from analogue to digital telecare requires telecare service providers to successfully complete several complex stages within a decreasing timeframe. Following on from the digital telecare roadmap that was published in our Guide to Digital Telecare in September 2019, the Team have worked with Partnerships to further develop and realign the key components of the roadmap to the accelerated 2023 deadline with the subsequent information:
An outline of a typical analogue to digital telecare transition starting in late 2020/early 2021 to provide insight into the process;
An overview of new products the Digital Telecare team plan to deliver to support the transition to digital telecare;
Key events which will impact the transition, such as the early switch off of analogue telephony in some areas.
Telecare service providers must follow the outlined roadmap and timescales to ensure that they transition to digital telecare safely, securely, and prior to the analogue network switch off.
Estimated timeline on transitioning to digital telecare
To complement the overall roadmap to digital telecare, the Digital Telecare team have worked with Falkirk Council to develop an estimated timeline of upgrading from analogue to digital telecare. This timeline provides telecare service providers with a more in depth breakdown of the timescales to complete key operational components including: signing off a Business Case, establishing a project team, procuring and implementing an Alarm Receiving Centre upgrade, conducting penetration testing, procuring peripheral devices, providing staff training, completing user acceptance testing, migration, business continuity, conducting internal acceptance testing and rolling out peripheral devices.
Resource and estimations
Whether you are a Local Authority, a Health and Social Care Partnership, or a Registered Social Landlord, the switchover from analogue to digital telecare is dependent on your organisation's digital leadership, capability and maturity. The end to end considerations of the switchover would be the assessment of your devices in the citizen's home, the infrastructure and alarm receiving centre platform where you receive calls and store your data. The Digital Telecare programme in your organisation should be considered and aligned as a thematic addition to the ICT / digital strategy, as well as central to citizen outcome centric strategies. This then helps promote focussed and high-level awareness of the transition.
The National Briefing Document details estimated costings and a suggested project team structure for telecare service providers developing their project team at the beginning of their digital telecare journey. Telecare service providers should view costs as a necessary investment which will support the effectiveness of future care and reduce the burden on traditional health and care services. Investment will be required in the short term to secure the digital technology however, significant costs and time can be saved by sharing best practice, solutions and knowledge between organisations. To support this, the resource section further details all the best practice guidance and templates which the Digital Telecare team offers telecare service providers to help with their journey to digital telecare.
Information on the impact on service users
By now, we know that the transition from analogue to digital telecare will have a huge impact on service users. It is important that their analogue telephone line and equipment is upgraded to continue to receive their vital services. This section of the National Briefing Document highlights the steps service users need to be aware of including advice on how to check if they already have a digital telephone line, guidance on when to contact their telecare service provider to be upgraded and what will happen during the telecare alarm device installation. Following the transition to a digital service, service users emergency calls will be delivered to an alarm response centre "digitally", rather than via the old analogue method offering a range of benefits including a better quality services and new service opportunities to meet their specific needs and improve their experiences.
Benefits and opportunities of digital telecare
The move towards digital telecare creates opportunities to redesign services around the user and ensure providers can fully exploit the capabilities of their upgraded telecare solution to improve efficiency, resilience, reduce cost and enhance the range of services offered to users. The National Briefing Document provides additional detail of the benefits and opportunities of a digital telecare service, why it should be viewed as an essential service for your organisation and why the transition to digital telecare service in Scotland should continue to be prioritised.
Risks of digital telecare
Alongside the vast wealth of opportunities, migrating to digital telecare introduces some new risks that need increased vigilance from telecare service providers following the reporting of issues caused by migration of service users to digital telecom systems by telecom companies (fibre broadband, digital media boxes etc) the Digital Office have undertaken research to determine if the risks that may be inherent in this process. It is very hard at this stage to quantify any risk, but the National Briefing Document states the risks to be considered as well as a significant potential increase in the incidence of failed calls caused by communication provider's ongoing work in the core of the telephony network.
Recommendations
The analogue to digital telephony migration is inevitable. Telecare service providers must develop a plan of action to minimise disruption to their service users. The National Briefing Document details the following recommendations to support this:
Work collaboratively to co-ordinate the transition and have a robust communications plan in place;
Take full advantage of best practice guidance provided nationally;
Develop, agree and follow a roadmap to achieve a safe transition;
Secure adequate funding for the transition;
Consider consumers' expectations.
As we progress through our journey to digital telecare, it is important that we remain focused and continue to work collaboratively across the sector. We hope the National Briefing Document not only highlights the urgency and importance of the transition to digital telecare but provides our stakeholders with useful guidance to support their journey.