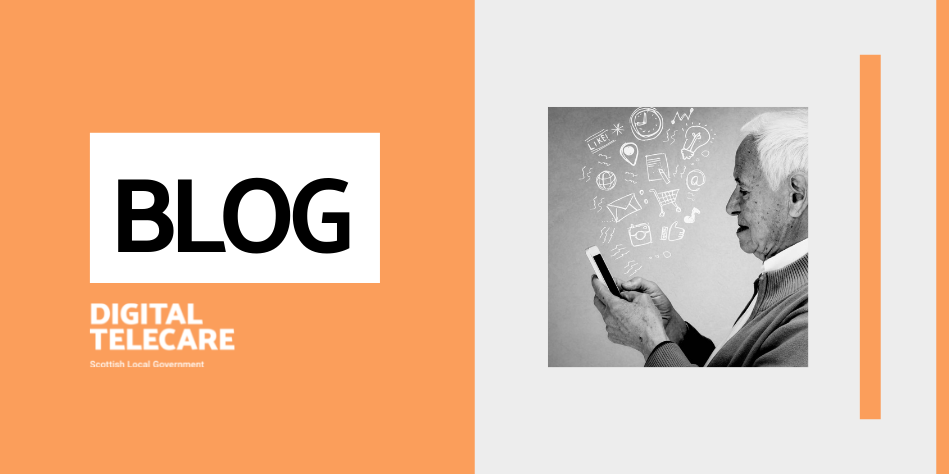 TEST OF CHANGE BLOG – INVERCLYDE AND RENFREWSHIRE HEALTH AND SOCIAL CARE PARTNERSHIPS
INTRODUCTION
With only four years until the existing analogue telephone network services being completely switched off as the UK's telecommunications infrastructure is upgraded solely to digital connectivity, telecommunications providers are already replacing analogue phone lines with digital equivalents. This means that as early as 2023, it will no longer be possible for citizens to purchase an analogue phone service from telecommunication's providers and by 2025, they will have fully migrated to a digital equivalent for all users.
The new digital telephony network will not support analogue equipment safely and securely. This means that if an existing telecare alarm is connected to a digital line it may not work reliably, or may not work at all, and emergency calls may be delayed, or fail to connect. This transition will have a huge impact on telecare service providers such as local authorities, health and social care partnerships and housing providers who will need to upgrade their telecare service to ensure that they continue to provide a reliable service for vulnerable service users.
In early 2019, Inverclyde and Renfrewshire Health and Social Care Partnership's submitted a test of change application to have the opportunity to demonstrate a proactive approach to the forthcoming analogue to digital switchover by becoming part of the testing and evaluation work undertaken by previous partnerships.
On 30th August 2019, both partnerships received confirmation from the Technology Enabled Care Programme Board that their bid to carry out a 90 day Analogue to Digital (A2D) joint Test of Change (TOC) had been successful and received £16,500.
The aim of their joint Test of Change was to trial and test 50 digital alarm units from service users' homes using a SCAIP Protocol through to an Alarm Receiving Centre (ARC). To successfully do this, both Local Authorities sub contracted the call handling element of their telecare service to Bield (BR24) who use the Jontek Answerlink Platform. This blog will provide details on the objectives of the test of change, the work carried out, the key project findings and feedback received.
PHASE ONE – PRELIMINARY WORK
In November 2019, the preliminary work on the Test of Change project began and continued until March 2020. This included the Project Team carrying out the following initial set up actions to successfully meet the aim to trial and test 50 digital alarm units from service users' homes:
Set up of Project Team
The Project team was initiated and consisted of: TEC Leads from Inverclyde and Renfrewshire HSCP's, Inverclyde TEC Team, Bield (BR24) ARC Manager and Team Lead and support from Digital Telecare for Scottish Local Government who are leading the national agenda.
Agreement on service user selection and engagement
The Project Team recruited participants for this Test of Change. Participants selected were already in receipt of a telecare service and familiar with Bield (BR24) in that they had all previously activated their community alarm and received assistance from call handlers. This ensured that the service already provided by Bield would remain the same throughout the Test of Change and contractual arrangements between both HSCP's and Bield, including data sharing agreements, would cover the Test of Change requirements.
The following additional factors were also taking into consideration when selecting users to ensure testing would focus on a range of situations and locations across Inverclyde and Renfrewshire and provide a true reflection of performance and connectivity.
Known Black Spots: Digital alarms were installed in areas that both Inverclyde and Renfrewshire were aware of as having very poor connectivity such as rural and coastal locations.
Frequent Callers: Calls log information was reviewed in order to select service users who had a higher contact rate and where we could therefore gather more calls information through the Jontek Answerlink Platform.
Long Term GSM users: Inverclyde and Renfrewshire have a log of service users where analogue units were not suitable and GSM units were being used long term. Selection specifically focused on those who had experienced frequent connection problems with their analogue line.
Care Manager Consultation: Care managers were consulted with prior to contacting service users to check that there were not any unknown reasons why they may not be able to take part in the TOC.
Agreement of digital equipment and project users
The Project team agreed to procure digital equipment utilising the project funding from manufacturers TeleAlarm and Tynetec Training was provided from the manufacturers on the programming and configuration of the digital equipment and device management portals – Tynetec (Pulse) and TeleAlarm (Cloud Services).
Completion of DPIA, Cyber Security Questionnaire and Risk Register
In order to be compliant, the Project Team successfully completed a Data Protection Impact Assessment (DPIA) Cyber Security Questionnaire and the initial Risk Register. The DPIA was revised and signed off by both HSCP's Information Governance and Data Protection Officers. The Cyber Security Questionnaire was completed by Bield; Tynetec and TeleAlarm providers and signed off by Inverclyde and Renfrewshire HSCP's Information Technology Services.
Installation of a Virtual Private Network (VPN)
To allow the data to be sent from the digital units to the ARC encrypted. VPNs for Mobius and CSL were installed in January 2020 followed by a testing period between both equipment manufacturers and the alarm receiving centre. This resulted in both manufacturers successfully sending secure SCAIP calls via the digital units to Bield (BR24).
Go Live Date
Initially, the Go Live date was provisionally set for week beginning 17 February 2020. This was delayed due to technical issues identified during in-house testing and further delayed due to government restrictions as a result of the COVID 19 pandemic. The project re-commenced on the 20th of September with digital units being installed in a phases approach within service users homes.
PHASE TWO – IN HOUSE TESTING
Before live testing was conducted with service users, rigorous in house testing at the alarm receiving centre was conducted. Bield carried out the following actions during the in-house testing:
Employed an external consultant to set up the Mobius firewall rules over a 2 day period;
Set up a controlled environment to allow unmatched calls to be answered and each client profile created;
Colour coded the banner that presents on the call handling screen to ensure digital units could be identified easily from analogue units;
Carried out call handler training by a Team Leader in order that they could identify digital equipment coming through the platform and manage the calls;
Trained call handlers on new digital location codes and how to distinguish between mains failures and periodic test calls;
Worked with both manufacturers directly testing to the ARC.
There were a few challenges which stemmed from the in-house testing. The first challenge initiated from a lack of sign off documentation between manufacturers and Jontek. Tynetec and TeleAlarm could not provide any sign off documentation to prove that their digital units were fully compatible with the Jontek Answerlink Platform at BR24. This resulted in unexpected delays within the project timeline due to full testing having to be done in-house and development work required by both the manufacturers and Bield's Answerlink Platform where faults were identified.
Secondly as Answerlink v9 was not fully digitally ready, this presented several challenges and delay's during in-house testing:
As Answerlink v9 was still learning SCAIP codes, testing was often paused until Jontek ran scripts which allowed the system to learn the codes.
Answerlink was unable to match client records when SCAIP calls presented at the ARC. A temporary fix was put in place to match SCAIP records by entering the SIM number as an identifier in the telephone line 1 field on Answerlink.
PHASE THREE – INSTALLATION AND LIVE TESTING
The installation of digital units was carried out using a phased approach to closely monitor the impact of installation and test the call connectivity through to the ARC in a more controlled manner. Phased installation was carried out with a total of 58 units being installed. The breakdown of digital units installed across both health and social care partnerships can be found below:
Inverclyde:
A total of 30 digital units were installed. This included 24 into service users' homes and 6 in TEC staff homes to allow the team to continually test without risk. Of the 30 alarm units, 25 were TeleAlarm TA74 digital units and 5 were Tynetec Reach IP digital units.
Renfrewshire:
A total of 28 digital units were installed. This included: 23 into service users' homes and 5 in TEC staff homes. All of these units were Tynetec Reach IP digital units. The key findings from the live testing were:
Installation Speed and flexibility
As digital units do not need connected to the main PSTN line, between 25/30% of the units were able to be repositioned to a more favourable position in the home.
The digital units provided a more streamlined and faster install compared to analogue, both units were able to get into ready state within 30 seconds.
As Digital units allow for programming over air, this proved beneficial if there were any problems that arose during install.
Failed Installation
During the TOC there was only one failed installation which both manufacturers units failed to work. This property is known to Inverclyde as the property is on a remote farm and has an unreliable landline connection and limited GSM.
Calls Failing SCAIP protocol
In the first 4 weeks of live testing 26% of calls being sent by the TeleAlarm unit were failing SCAIP protocol and diverting successfully onto the back-up protocol BS852. Investigation provided evidence that this was a programming error, all units were able to be reprogrammed successfully over air, no future errors occurred.
Automation of calls
In the first 4 weeks of live testing 22 Auto Answer (background) calls were presenting to the ARC as live calls. As they did not have a service user on the end this resulted in call handling staff treating the call as no speech, calling service users at home and escalating to responder staff. It was identified that these calls were two information calls being sent from the TeleAlarm unit that the Answerlink Platform has not set to auto-answer. This was swiftly rectified by Bield.
Roaming SIM
Data provided from Mobius and extracted from Pulse provided the following data:
Mobius SIM: used in the TeleAlarm TA74 units showed that this SIM was equally distributed among network suppliers and fluctuation was evident.
CSL SIM: used in Reach IP units showed almost 100% to be connected to the Vodaphone network with few examples of fluctuation.
Diverting calls to Disaster Recovery (DR)
This was an area that took significant time to be developed. The group were unsure in the beginning as to how DR should be programmed into a Digital Unit. Bield advised in September 2020 that DR required a DR IP address to be programmed as a protocol.
Planned Testing to DR: Planned testing did not take place due to no suitable date being agreed. TeleAalrm did not programme the DR protocol as it was untested and Tynetec programmed the DR protocol without testing.
Unplanned Testing to Disaster Recovery (DR)
The ARC unexpectedly went to DR between the 1st and 3rd December 2020. Live testing results showed:
TeleAlarm
Back up GSM protocol: Testing took place on the 3rd December as soon as TeleAlarm became aware that Bield had gone to DR. Calls at this point were being sent through to the ARC on Protocol 3 – BS8521 GSM successfully proving that the back-up protocols were working.
DR Protocol: TeleAlarm quickly added the DR protocol as Sequence 2 and tested through to the ARC. The alarm was sent and received successfully via DR protocol.
Batch Programming: TeleAlarm were able to add the DR protocol via Batch Programming to all of the TA74 Digital units in less than 30 minutes of being aware that BR24 was in DR. This is a great example of the benefits of Digital units in that they can be programmed remotely and updated over air without the need to carry out home visits.
Tynetec
Back up GSM/TT92 protocol: Testing identified that Reach IP units were failing DR protocol. This was evident as both fixed trigger calls and all Periodic Test Calls were not going through on DR protocol. These calls showed on Pulse as Failed Calls and generated emails to the relevant recipients. Renfrewshire Council's units were successfully going through on Protocol 3 – TT92 GSM proving that this protocol works well as a backup. Inverclyde's Reach IP units were failing on all three protocols and no calls were reaching the ARC. Due to the delay in fixing the problem these units were removed from service users homes to limit risk and the original analogue units were reinstalled.
DR Protocol: Bield had notified Jontek of the problem immediately. Jontek required a technical fault to be raised before investigating. This was sent on the 9th December. Feedback from Tynetec was that there was an error with the DR IP address that was entered when setting up the configuration file. Tynetec also stated that they do not recommend the use of BS8521 when sending analogue alarms digitally and have advised the use of TT92 for analogue contingency use until fully IP. The configuration files were updated and applied to all TOC units by Tynetec Help Desk Administrator.
FEEDBACK
Bield Call Handler Survey on Digital Calls
As part of the Test of Change Project, Bield Call Handlers completed a survey on their experience of handling calls from digital units through to the Jontek Platform. Below is the key findings from the survey which is based on 22 responses:
85% of call handlers stated that they found the SCAIP calls to be much clearer than analogue calls with less interference;
95% of call handlers found that the SCAIP calls remain stable throughout the duration of the call;
69% of call handlers could immediately tell that the call was from a digital unit whereas 27% had found that at sometimes it was difficult to tell;
86% of call handlers found that the voice clarity when on a call was significantly improved particularly when there was a lot of back ground noise;
95% of call Handlers found it much easier to communicate with the service user over a digital line;
70% of call handlers found that it was quicker to call out to a digital unit with 30% commenting that the time was no different to calling out to an analogue unit.
86% of call handlers commented that the client records matched when the call came through on digital with 14% stating that it often did not in the beginning. (This was rectified and a temporary fix was introduced by inputting the SIM number in the Telephone 1 field on the Jontek Platform. Since this date, there has been no unmatched records via SCAIP).
SERVICE USER FEEDBACK
The Test of Change Project Team conducted feedback with service users in a phased approach throughout the project. The initial feedback was sought within the first two weeks of the phased install with ten service users successfully testing the TeleAlarm units at least three times per week. The findings from their completed survey were as follows:
80% were satisfied with the digital units;
50% stated that they thought it was better than the previous analogue unit;
85% commented that they liked the personal pendants and found them comfortable and easy to use;
53% thought the call answer time was quicker;
60% commented that voice clarity was significantly better.
Further service user feedback was gained from the call handlers at Bield issuing a survey to digital participants when they made a test call through to the alarm receiving centre. 35% of service users across both Tyntec and TeleAlarm digital units.were testing the alarm more than 3 times per week with 65% testing 3 times or less per week. The results were as follows:
53% of service users thought that the call answer time was quicker than analogue with 47% thinking. There was no noticeable difference. Some who initially experienced connection problems commented that it was slower.
15% of service users experienced unnecessary calls in the first six weeks due to the Auto Calls such as periodic test calls from the Tynetec units and the TeleAlarm bug (Mobile Communications Link Re-established) not being set to Auto Answer at the ARC;
60% of service users commented that the voice clarity during a call to the ARC was significantly better than the analogue units. Comments were that the call was crisper and less crackly than they were with the analogue units.
Conclusion
The Test of Change project conducted by Inverclyde and Renfrewshire health and social care partnerships has provided significant learning which can be utilised by all telecare service providers. This is the first of three Tests of Changes to be published all looking at the migration from analogue to digital. It is hoped that other telecare service providers can learn from these experiences and take some measure of comfort from the outcomes. Although the process is complex and despite planning, numerous unforeseen issues arose, none were unsolvable or required a rollback. The clear improvements for both the service and the service users are significant benefits, even without the pressure of analogue switchoff.