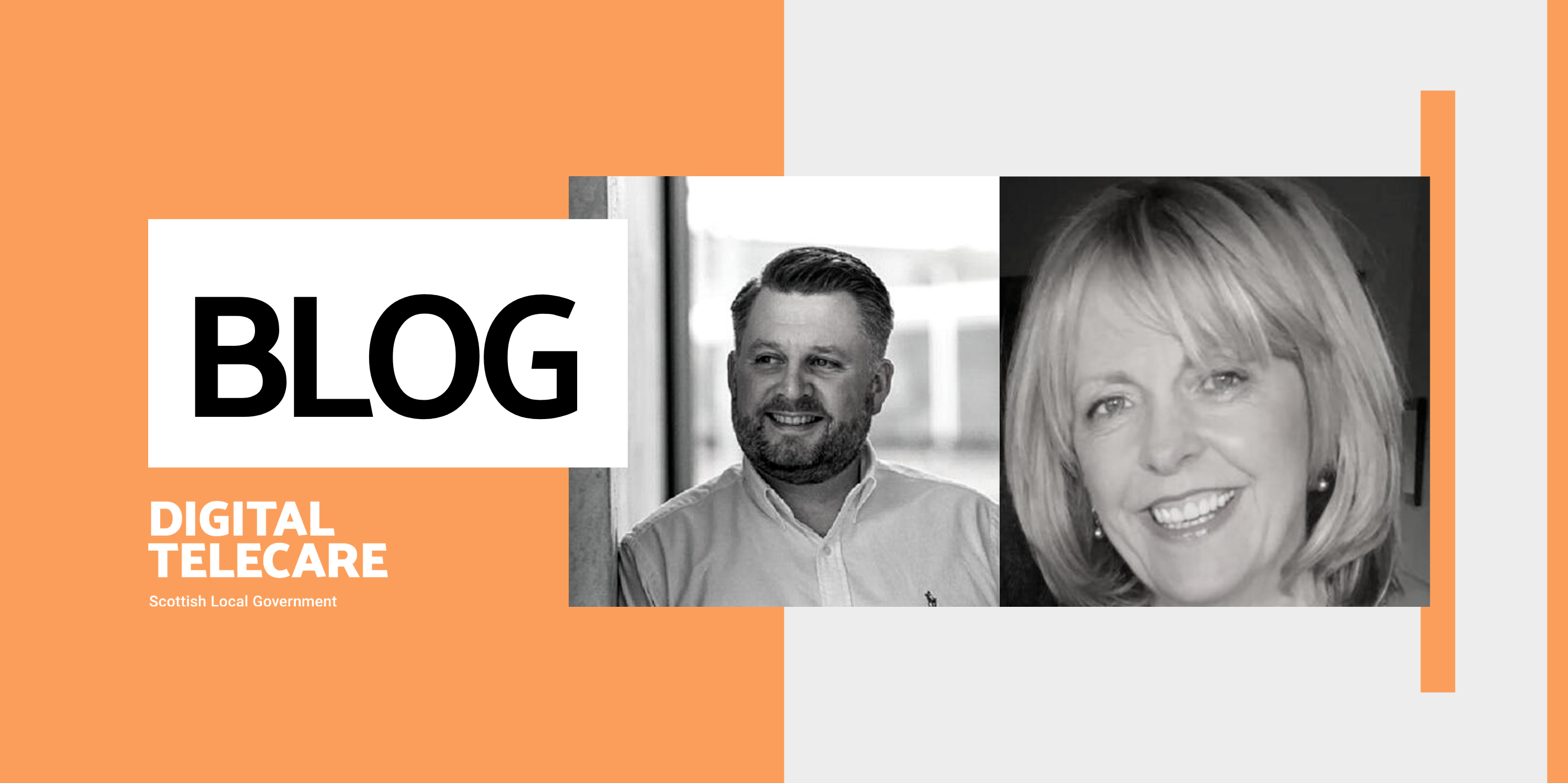 THE PROGRESS OF DIGITAL TELECARE IN SCOTLAND
MARTYN WALLACE, SENIOR RESPONSIBILE OFFICER FOR DIGITAL TELECARE FOR SCOTTISH LOCAL GOVERNMENT
As we continue to experience the increase in an ageing population across Scotland, expectations are increasing for improved service delivery, new services and readily available consumer technology that can track steps, fitness and weight. We are seeing more and more Scottish citizens wanting to be able to manage their own conditions and data in a way that suits them with the assurance and security of someone being available when they need them.
Then, as we look at the nation-wide stop-sell on analogue telephony packages starting in 2023, we have not only a massive opportunity, but an imperative, to collaborate and deliver a once for Scotland approach to telecare services.
The ultimate result in this situation will be that Scottish service providers can collaborate to create new solutions and services that citizens expect of us whilst also using our combined capability and capacity to save costs on procurement and deployment whilst at the same time accelerate the rollout and adoption together. But to get there, this takes leadership and understanding what citizens actually need.

The Digital Telecare Programme
In the last three years, we have built a highly motivated and engaged team in collaboration with Technology Enabled Care (TEC) in Scottish Government to look at how we tackle the challenges and opportunities that Digital Telecare can bring to us in Scotland.
Within the team, we benefit from the expertise of our Business Relationship Manager, David Brown, who joined us in July 2019 and has a background in running telecare services in Edinburgh Health and Social Care Partnership. Through his knowledge and background, we have been able to build strong relationships with Partnerships across Scotland, set the scene on the urgency and complexity of the digital switchover and have a full understanding of the pressures of having a reduction of budgets, an increase in users and having to switch over, all at the same time.
As part of our continual support to Partnerships during this transition, we launched the Digital Telecare Playbook in October 2019. The purpose of this resource is to share all best practice, blueprints, project plans and currently composes of three pathways which are Management, Technical & Security and Procurement. These will be joined later in 2020, with two new pathways on Stakeholder Engagement and Workforce. All the pathways we create are done in conjunction with Partnerships and will be there to help engage the right people, at the right part of their transition process thus ensuring no one is left behind in what is an ever-decreasing timeframe.

Approach to procuring solutions
The Digital Office and Digital Telecare team have been working in partnership with Scotland Excel to plan and deliver the next generation of a procurement framework for telecare services in Scotland. This project plans to leverage market power which will harness the opportunities provided by digital transformation to disrupt existing markets and support greater innovation within the sector.
Key areas of our current discussion include augmenting existing supplier availability with new and emerging suppliers, and the potential introduction of services to the next iteration of the procurement framework including connectivity services such as mobile SIM provision, broadband and internet of things. Through consultation with service providers, we have identified and agreed that Principles and Standards will be crucial elements of this new framework, and areas such as interoperability across all suppliers' solutions, open APIs to support better use of data and less reliance on proprietary technology and eco systems. This approach will support telecare services in Scotland to deliver improved efficiency, resilience, and an enhanced range of services that can be offered to citizens.

Approach to Cyber Security
To help suppliers and support this strategic direction around Principals and Standards, we have recently launched the Digital Telecare Security Assessment Scheme to ensure a consistent and best practice approach is taken to cyber security. Suppliers can elect to undergo this assessment scheme and where they meet the fair and common minimum-security standard, their name and details of equipment and services assessed will be added to the list of Assessed Providers on the Digital Telecare Playbook. Partnerships will be able to access details of the assessed equipment/ services and use this as evidence that appropriate cyber security is in place rather than having to complete the assessment themselves. We have now provided suppliers with guidance and details of the next steps of the process to get assessed. The initial assessments will take place over the coming months, with the first round of suppliers expected to be added to the Assessed Suppliers List before the end of the year.

Approach to Implementation
The process of upgrading from analogue to digital telecare requires Partnerships to successfully complete several complex stages. This represents a significant commitment from services who, historically, have not been over-resourced. However, given telecare is an essential service, the transition cannot be rushed, and it is essential that the final digital telecare solution provides a safe, reliable and high-quality service to citizens. To further support Partnerships in their digital telecare journey, we have also, just this month, launched a Digital Telecare Implementation Award Scheme. This is designed to celebrate the success of Partnerships reaching five key milestones in the digital telecare journey, while simultaneously reinforcing the importance of these milestones themselves. It is hoped that external recognition of this nature will help ensure internal recognition of the achievement Partnerships have accomplished in attaining these five milestones.

Understanding new services
The move to digital infrastructure and resulting implications for telecare is a global event. Countries such as Australia, Germany and Sweden have already made significant progress, whilst others such as Spain are still in the early stages. Scotland has always prided itself on its inclusive international outlook and thrived through strong international connections, and telecare should be no different. The common need to transition to digital telecare offers the perfect opportunity for collaboration and knowledge sharing and will empower Scotland to implement solutions which represent international best practice, while also offering a global audience for our own innovations. Initial links were made in November 2019 when a group of colleagues from Kristiansand Kommune in the Agder region of southern Norway were invited to join us at an event in Glasgow to connect with Scottish Health and Social Care Partnerships and to share their experiences of their transition to digital telecare.
This collaboration has since deepened and following a successful bid to the Digital Health Europe Twinning Scheme, coordinated by the Scottish Government's TEC and Digital Healthcare Innovation Division, we will now be working with our colleagues from Agder, as well as new colleagues from Andalucía in Spain. This will facilitate knowledge sharing and the co-creation of a 'Road Map to Digital Telecare', designed to support any country embarking on this journey, as well as a 'Citizen Pathway' for the Digital Telecare Playbook which will explore best practice around citizen-centric services and how citizens can be placed at the heart of the digital telecare transformation process. Initial work will begin in September 2020 and the project aims to deliver these products by March 2021.

Moving forward
The Digital Telecare Programme provides a massive opportunity to re-imagine what telecare services look like in Scotland and potentially offer new services to citizens. Historically we have offered a reactive service, however, by releasing data and adding in automation of tasks, we can free up staff to be able to focus more on frontline services, for example offer outbound calls to citizens like we see in models created by international colleagues. This can also help with the challenges we have around loneliness within society. All telecare providers are at different stages of their journeys but by collaborating and sharing best practice, we can accelerate transformation collectively and reduce the need to reinvent the wheels. This is only a flavour of what has been happening within our team, however hopefully this provides enough information to get new faces involved and expresses the urgency which we are now facing in transitioning to digital telecare.
If you would like to know more about the Digital Telecare Programme or to get involved, please contact digitaltelecare@digitaloffice.scot.

TELECARE IN SCOTLAND - CHALLENGES AND OPPORTUNITIES MARGARET WHORISKEY, HEAD OF TECHNOLOGY ENABLED CARE AND DIGITAL HEALTHCARE INNOVATION
In Scotland, telecare has become by far the most common means of providing care and support at home – around 180,000 people receive some form of telecare or community alarm service.
Telecare is the use of continuous, automatic and remote monitoring of real time situations. A worn pendant or installed sensors relay information, most commonly from a person's home to elsewhere, usually a monitoring centre, for it to be acted on to prevent harm, or enable a rapid response should an incident – such as a fire or a fall – occur. Telecare can also provide welcome peace of mind for the person receiving the service, their family and friends.
The Scottish Government has supported the development of telecare services since 2006, when the Telecare Development Programme provided a foundation for telecare to become an integral part of community care across Scotland. Since then, the number of people benefitting from telecare has grown considerably, and the technology in use has evolved.
Today, the Technology Enabled Care (TEC) Programme continues to have telecare service expansion, improvement and innovation as a priority, with the Telecare Feasibility Study and the Review of Telecare Call Handling identifying further development opportunities.
Over the next few years, telephony providers will be switching all customers over from their existing analogue telephone network to a digitally-enabled service. It's important to note that a number of providers have accelerated this work, and now state 2023, as opposed to 2025, as the end point for this process. Switching from analogue to digital telecare currently presents both the biggest challenge for telecare services, and also the biggest opportunity - to transform, or 'reimagine' telecare.
Parallel to the expansion of telecare, have been advances in areas such as Internet of Things and smart sensors, which present new and novel ways of supporting active and healthy ageing. This includes devices that aim to be more 'proactive' in the support they provide. These advances are accompanied by a significant growth in the number of people able and wanting to use their own smart technology to keep connected, safe, well and independent.
Switching from analogue to digital telecare has the potential to improve the efficiency of telecare delivery – and in addition - integrate telecare with other health and care services, and widen the range of telecare services offered to people to support them to achieve the outcomes that matter to them.
As outlined in Scotland's Digital Health and Care Strategy – Enabling, Connecting and Empowering, the transition to digital provides exciting service re-design opportunities. It has the potential to enable a shift from a predominantly reactive, demand driven service model to one that is not only proactive, but is intelligence-led, and uses new technologies to anticipate and prevent crises in people's lives and support their wellbeing – as well as retaining its core and vital function – to enable people to access support quickly in a crisis. However, much work has to be done before we can reap the benefits of digital telecare. It has never been more vital that telecare services begin progressing their digital transition.
Since 2017, the TEC has funded the Local Government Digital Office (LGDO) to deliver the Digital Telecare Programme. Working closely with TEC and COSLA, LGDO has been developing best practice, strategic guidance and operational support to Scottish telecare service providers for the planned transition from analogue to digital telecare. Working with LGDO, the TEC Programme and myself look forward to continuing to support the telecare community with the challenges, but also the very exciting opportunities that lay ahead.